Christina Cimorelli

General Information

Full name:
Christina Lynne Cimorelli-Reali
Birthday:
August 12,[1] 1990[2]
Age:
28
Gender:
Female
Eye Color:
Green[3]
Hair Color:
Light brown

Biographical Information

Residence:
California
Occupation:
Singer
Pianist
Nicknames:
Chris
Chrissy
Hurricane Christina (by Nick, her boyfriend)[4]
Tina
Crises (by Alex)[5]

Relationship Information

Parents:
Mike Cimorelli Sr. (father)
Lynne Cimorelli (mother)
Siblings:
Mike Jr. (older brother)
Katherine (younger sister)
Lisa (younger sister)
Amy (younger sister)
Alex (younger brother)
Lauren (younger sister)
Dani (younger sister)
Christian (younger brother)
Nick (younger brother)
Joey (younger brother)
Spouse:
Nick Reali
Relatives:
Michael A. Cimorelli (paternal grandfather, deceased)
Joe Cimorelli (uncle)[6]
Romances:
An ex-boyfriend
Nick Reali[7] (spouse)

Christina Lynne Cimorelli is born August 12, 1990. She is the second child out of her siblings, the and the oldest girl in both Cimorelli and the family.
She arranges music sheets with younger sister Lisa. Christina is described as the laughy, bubbly one of the group, and tends to crack up the first while filming videos.
Appearance
Christina is 5'6".[8] She has naturally straight[9] brown hair and green eyes. She wears glasses or contacts. She says that like her younger sister Amy, she has "tiny hands and tiny feet." She wore braces for about three and a half to four years.
She says that she has a very "classic" style and that she loves Forever 21 and looks to Vanessa Hudgens' for fashion inspiration. Her shoe size is a 5 or 6.[10] Her ring size is a 4-4 1/2.
For some reason, she cannot fully straighten her arms. She is also one of the only two Cimorelli children (the other being Lisa) whose fingers are not crooked.
Personality
As the oldest in the band, Christina is considered the leader. However, she is also described by her sisters as "most likely to be a kid forever." She wrote on the Cimorelli music blog that "I have a complicated personality, and I'm a complicated person. I have lots of different sides! I'm half super-shy, half super-outgoing. I can be super-slow and take my chill out time, and I can be SUPER HYPER. I'm VERY sensitive and emotional, and songwriting is my outlet. I can be a bossy leader, yet I can be a little kid or a complete weenie!" She likes to say that she's sassy and a "bossy diva."
Relationships
An ex-boyfriend
Christina had a boyfriend prior to current boyfriend Nick, and says she dumped him because they could never agree on anything.[11]
Nick Reali
Christina and Nick have been going out for eight years, and their anniversary is July fifth.[12][13][14] Nick's sister was in a college class with Christina and told her about Nick. Christina and Nick then began talking over Facebook and met in 2009 on Christmas Eve.[15][16] Their first date was at the movies.[17] In the beginning of their relationship, she says he was fully ready to commit and she was scared.[18] Christina wears a purity ring[19] and isn't looking to settle down anytime soon. He, like Christina and her family, is Catholic.[20]
The couple became engaged on December 16, 2017.
Trivia
She shares a birthday with Lauren and says they are like "Batman and Robin." Lynne says Lauren's middle name is Christine because Lauren was born on Christina's birthday.[21]
Her mom taught her to harmonize when she was 4 1/2.
She, Lisa, and Lauren are most likely to wear their brothers' clothes.[22]
She calls her younger brother Joey (the youngest in the family) "Poochie."
She shares a room with Katherine and Amy. They share a bunk bed and she gets a single bed.
She and Dani can burp on command.[25]
She and Lisa have done the same amount of dance.[26]
Alex calls Christina "Crises" because she is very calm.[5]
Favorites
She's a fan of Jojo and Chris Brown.
Her favorite animal is a lioness.
Her favorite color is pink.[27]
Her favorite perfume is Vanilla Lace by Victoria's Secret.[28]
Her favorite Scripture is 1 Corinthians 13:4-8.[29]
Some of her favorite movies include Bride Wars, A Cinderella Story, and the High School Movie franchise.[32]
Her favorite store is Forever21.
Her favorite song is "Too Little Too Late" by Jojo, who is the person she would most like to perform with.[33]
Her favorite television show is Hannah Montana.[33]
She loves Good Luck Charlie and Pretty Little Liars.
Her favorite food are sandwiches.[33]
She hates hot dogs, but not as much as mayonnaise.[34]
She has never drank and says she never will.[35]
She says she never drinks soda.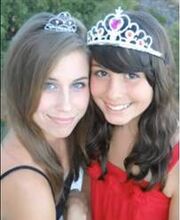 Miscellaneous
She is the only girl in the singing group who doesn't have dark brown hair.
She is the only Cimorelli sister to ever have a boyfriend.
She has a pet turtle.
She likes to sew.
She would like to get a degree in theology, liberal arts, philosophy, psychology or some kind of mix of those.
She baby-sits and gives voice lessons to earn money.[36]
She enjoys playing piano, having fun with her family, friends, and the CimFam.
She can play the piano/keyboard.
She was the one who started Cimorelli.
The lowest note she can comfortably hit is E3 (the E below middle C).[44]
Her vocal range is B2-F#5
She is Catholic and subsequently is against abortion and says she would not date anyone outside of her faith. She also says that the Bible is her biggest guide in life.
She wears a purity ring.
She did gymnastics for eight years.
Her favorite sport are gymnastics, swimming, and boxing.[33]
She choreographed the dances for Cimorelli's "Call Me Maybe" and their "Boyfriend" videos.[45]
She has been to Nevada, Arizona, New Mexico, Texas, Pennsylvania, New York, New Jersey and Hawaii,[46]
She would most like to vacation in Italy.[33]
Gallery
To view the image gallery for Christina Cimorelli, click here.
Quotes
"Speed, boy, speed! Or else you dishonor your whole family."[47]
(about Katherine) "She's a hippie. In disguise. As a man."[47]
(to Katherine) "You look like a reptile. A scaly snake."[47]
External Links
References